Notes for Game 02
By Andrew Wolan / BSSC
Game date: Dec 12, 2010
Score Box
| | | | | | | | | | | | | |
| --- | --- | --- | --- | --- | --- | --- | --- | --- | --- | --- | --- | --- |
| Silly Pigs | 4 | 0 | 1 | 2 | 2 | 0 | 0 | 0 | | 9 | X | 3 |
| Indies #1 | 0 | 4 | 0 | 0+1 | 1 | 0 | 1+1 | 2 | | 10 | 23 | 2 |
Links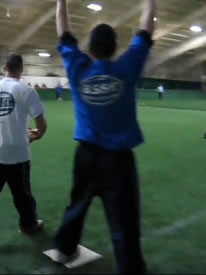 Larry celebrates at third after the winning run is scored. (Wolan)

Coach's Game Analysis:



Good job closing out our game against a competitive team. We had a shaky start, but we never lost our composure. We played hard to keep the game within reach, giving ourselves a chance at a win. We eventually came out on top when we had the chance.

As for the 3 aspects of the game:



Fielding:



- I think the reason why we had a shaky start was because our opponent had set a fast tempo for the game. It took us an inning or two to adjust and settle in. After that, we were fine. It's something to be mindful of in future games.



- There was some confusion about what happens when a ball is caught in foul territory. According to the rules:
In order to prevent injury, all foul balls will be considered dead and not catchable for outs.

Umpires may call fouls before the ball lands, if he/she feels there may be a possibility of injury on the play.
The moral of the story: unless the ball is going to land near the line, don't chase after it.



Batting:



- We went up against some great fielders who made some great plays. However, the opposing team did have a weakness: the fielders liked to play deep. (Especially the third baseman.) Because of that, the opposing team struggled when fielding pop-ups near home plate.



Base running:



- Our base running was aggressive, if not a bit too aggressive, as we were thrown out at home twice. But that's okay, because such base running draws the other team into a situation where they either make a great play, or botch it and allow our other base runners to take extra bases.



Coaching:



- As for me, I need to be on the ball whenever an opponent is missing one or more women players.
<!BR>

<!BR>

Announcements:



- Our next game is at Sunday at 8:30 pm on Field 2 against "Dented Bats."

- Natalie will be in CA for this game. Dee, Kim and Marilyn: please let me know in advance if you can't make it to the next game.

- I found my pitching mat from storage. This mat is placed behind the plate to help mark the strike-zone. This will be helpful in case anyone wants to practice being the team's back-up pitcher.

- For those that are unaware, I have created a team website at www.verdasyssoftball.com. So far, just the stats are up, along with the schedule. (Could someone double-check it to ensure I have the correct information up?) I temporarily took down my company's softball team website until I can find time to address a sub-domain issue.

- Since I have such a hard time remember everyone's names, I have decided to create a "roster" section on the team website. When you get a chance, could you please email me a photo of yourself and I'll compile the page over the weekend or during our bye-week. If there are any "fun facts" you would like to add, be sure to include them.

- I'll post my videos from Games 1 and 2 on the website when I get a chance.

- Has anyone heard from Jeff Chin? I contacted the league commissioner to make him aware that Jeff has not shown up to any games thus far.
<!BR>

<!BR>

Game Highlights:





Big Bats:



| | |
| --- | --- |
| Marcus: | 4 for 5 with 2 RBIs and 1 run score. Had game winning RBI. |
| Kim: | 2 for 2 (3 SACs) with 2 RBI. Had game tying RBI. |
| Garrett: | 4 for 5 with 2 runs scored. |
| Indies #1: | every player had at least one hit. |
Web Gems:
| | |
| --- | --- |
| Natalie: | line-out at 2B (1st) |
| Dee: | Dee to Garrett 5-2 force-out at home. (4th?) |
| Marcus: | Marcus to Garrett 5-2 force-out at home. (6th) |
| A-WOL: | caught a toss to second with his right elbow for force out to end the inning. (7th) |
| Natalie: | 4-3 double play. (8th) |
| Silly Pigs: | 3 plays at the plate made. |



Pitching:


Marilyn: 8 innings, 1 K, 3 BB, CG, Win



Memorable Events:


Two runs were awarded to Indies #1 because "Silly Pigs" only had one female.
<!BR>

<!BR>

A-WOL Watch:





Batting:


1 for 4 (Walk). In the first AB, the SS made leaping catch of line-drive.



Fielding:


- Malpositioned myself and failed to net a 6-5 force-out at third. (Playing SS.)
- Misplayed an infield pop-up, as ball deflected out of glove and behind me. Fielders made play at first for out. Took eyes off ball trying to go for the double play a bit too early.
- Caught a toss to second with right elbow for force out to end seventh.



Andy Wolan is a team captain, reporter and photographer for the Indies #1. This article was not subject to the approval of the league or its clubs.